OPEN DAY January 26th 2022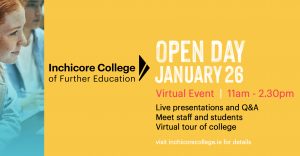 Join us for our online Open Day, next Wednesday January 26th from 11 – 2.30 pm. 
The main focus of the day will be a series of live presentations and Q & A sessions. Each session will concentrate on a specific group of courses and will feature talks with teachers and students and live questions and answers. There will also be a virtual tour of the college where you can see our facilities and meet more staff and students.
The links to the live sessions will be posted here.
Schedule of talks and Q&A sessions:
11am  Welcome 
11.15  Dance Courses 
11.35  Theatre 
11.55  Creative Arts Courses
12.15  Childcare Courses
12.35  Psychology and Social Courses 
12.55  Nursing & Healthcare Courses
13.15  Sports Courses 
13.35  Business Computer and Law Courses 
13.55  Tourism Courses 
14.10 – 14. 20 Career Guidance
Close
We look forward to welcoming you to Inchicore College Open Day 2022!