Inchicore College Open Day January 25th 2024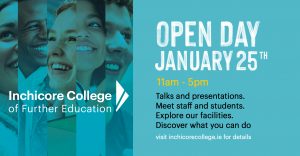 Inchicore College Open Day
January 25th. 11am – 5pm
"I arrived at Inchicore College open day and got such a big welcome, it just felt like home. I felt so welcome. When I discussed the coursework with them, I was just really excited.  I just thought, this is where I need to be – this is where I want to be in college."
Michelle Anne Kelly – Theatre Studies level 5
Inchicore College invites YOU to come to our open day and find out more about how you can create your future.
Making decisions about what you do next in education, training and career can be difficult, but one of the best things you can do, to help you plan, is to go to open days. And Inchicore College Open Day is coming soon!
Coming to our open day will give you a real feel for our college and for college life. See where you could be next year, meet teachers and current students and get a real insight into the course you want to do.
And if you are not sure what you want to do next – all the more reason to come in and see what is on offer. You might discover a new path you never thought was possible.
On the day, there will be:
introductory talks
demonstrations of practical work
exhibitions and performances by our students
opportunities to discuss your options with staff
a chance to explore our building and facilities
Drop in anytime between 11am and 5pm. You're sure to get a warm welcome!