FIRST YEAR THEATRE PRODUCTION 2021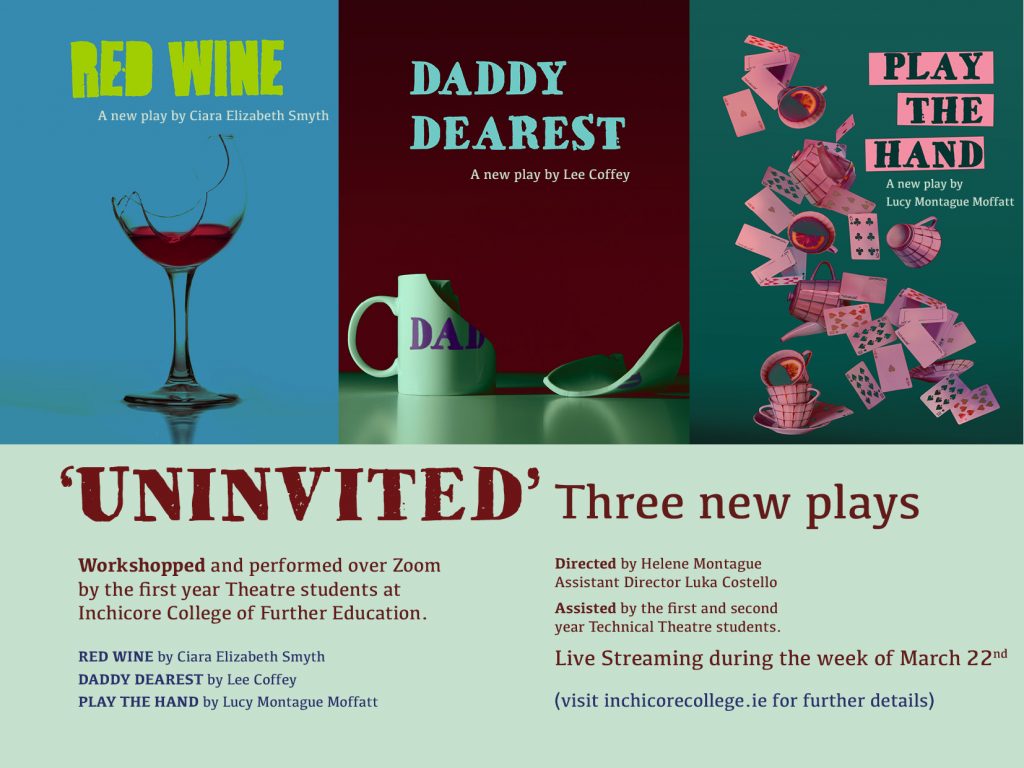 The first year Theatre students at Inchicore College of Further Education present three new plays in a LIVE Streamed Performance.
These Shows will be LIVE STREAMED to an invited audience Monday 22nd March – Wednesday 24th March. Recording of the performances will be available at a later date.
RED WINE by Ciara Elizabeth Smyth
DADDY DEAREST by Lee Coffey
PLAY THE HAND by Lucy Montague Moffatt
Directed by Helene Montague
Assistant Director Luka Costello
Assisted by the first and second year Technical Theatre students.
Watch the PROMO VIDEO here:
"UNINVITED"
Every year for the last 11 years, Inchicore College has invited a young upcoming professional Irish playwright to come and work with the class of first year actors and technical theatre students to produce a new script, unique to them.
This year we are lucky enough to have three writers, all who have written plays previously for Inchicore College, and all who have impressive experience in theatre and television.
Lee Coffey, Ciara Elizabeth Smyth and Lucy Montague Moffatt met the class of first year theatre students in the first week of November 2020. Luka Costello a high achieving graduate of our theatre programme joined us as Assistant Director. We were allowed at the time to have class face to face in the College. Lee was with us in the room and Ciara zoomed in from Scotland and Lucy from Wales .
We had decided that in the current climate of insecurity we would ask them to each write a short play (15-25 minutes) and divide the class into three casts so that numbers weren't a problem for rehearsal space.
The resulting plays have been a joy to work on.
The title 'Uninvited 'reflects the theme of surprising encounters and revelations running through all three plays.
"Daddy Dearest" by Lee Coffey is a dramatic meeting between three sons and the father they never knew.
"Play the Hand" by Lucy Montague Moffatt is a surreal comedy centred around a family's first encounter with the daughter's boyfriend, and an unexpected dark secret.
"Red Wine" by Ciara Elizabeth Smyth is a modern comedy played out on a zoom call between two neighbouring couples, plus a helpful relative and featuring an unusual request.
The music featured in the plays includes
Bing Crosby, Aretha Franklin, Kiss, Daniel O'Brien, and the Uninvited theme for piano by H. Montague