Halloween Costume Competition Time!
Well done for getting through the first term!!!  To celebrate a successful few weeks in college, and a Happy Halloween, we are holding a FANCY DRESS COMPETITION this Thursday the 21st!!  The class that scores the most points will win a PIZZA PARTY after mid-term break!  Please see instructions below.  We will also be announcing the winner of the Self-Care Competition held during World Mental Health Day at the same time.
FANCY DRESS Scoring as follows:
The class with the most fancy-dress costumes and points wins the prize!  Post your group photos and mention or tag the college social media for evidence, stating what course and class you are!
https://www.instagram.com/icfeofficial/?hl=en 
https://twitter.com/ICFEofficial 
https://www.facebook.com/inchicorecollegeofficial 
Scoring as follows: 
Each student dressed up and in the photograph gets five points 
A class in fancy dress with a picture of a teacher dressed up wins a bonus of 5 points 
Picture taken with students in fancy dress and the Inchicore College logo gets a bonus of 10 points
The class with the most points will win a pizza party after a midterm break.
Classes under 12 people can double up with another class 
Individual prizes for best costume.  
best staff prize will receive a voucher for a pizza 
We are looking forward to seeing all the costumes on Thursday!! 
May the BEST class win!!
Aideen (guidance counsellor), Tony (Sports department) and Eoghan (Art department)
Graduation 2021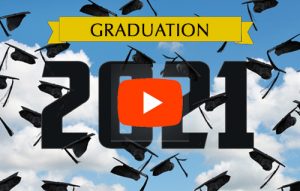 We are delighted to announce that the Inchicore College of Further Education Graduation 2021 is now available to view. Just click on the video to watch. If you watch on youtube, you can use the timestamps in the description to go to your class presentation.
Congratulations to all our graduates and well done on your achievement! We are so proud of your success.
Graduation from a course is a significant event and we would love to be able to have you and your family attend our graduation ceremony in the college. But, unfortunately, that is not possible this year.
Instead, we have filmed the presentations from the graduation ceremony in the college and are showing this on our website to mark your achievement.
We invite you, your family and friends to enjoy it and celebrate with you.
ICFE Celebrates World Mental Health Day 2021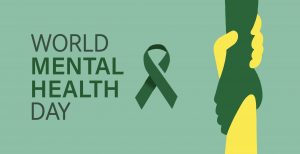 Let's celebrate WORLD MENTAL HEALTH DAY 2021 in Inchicore College on Thursday the 7th of October
 'Mental Health Care for All: Let's Make It a Reality! (World Health Organisation) through Connection & Reconnection.
Join in various Good Mental Health activities throughout the day!!
Live Wellbeing Webinar at 1pm

Join the guidance counsellor in conversation with
Bill Vaughan (Mental Health Ireland)
Michelle Stowe (Restorative Practice)
Annie Lavin (Relationship Coach)
on our Live Wellbeing Webinar at 1pm to hear how to make Mental Health Care a reality through self-connection with the self and reconnection with others.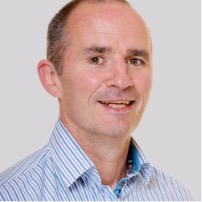 Bill Vaughan has been as a Development Officer in with Mental Health Ireland for 11 years. He is a trained counsellor but now focuses more on promoting positive mental. Bill is an experienced facilitator and has delivered many evidenced based programmes relating to mental health and self-care. Bill is married, has 3 grown boys and lives in Co Donegal.  For more information check out www.mentalhealthireland.ie
Michelle Stowe is a restorative practitioner, trainer, researcher and consultant. In her role as the director of Connect RP, she supports schools and colleges in growing a restorative culture that puts people and relationships at the heart of a learning community.  Michelle is also a lecturer on the Professional Masters in Education (PME) programme in Maynooth University.  She facilitates continuing professional development courses for teachers in Education Centres throughout the country. For more information, check out www.connectrp.ie
Annie Lavin aka The Relationship Coach is a Couples Therapist, Singles Coach, Relationship Skills Educator and Psychology lecturer.  Annie is committed to tackling stigma and promoting the creation and maintenance of healthy intimate relationships through psychology, counselling, coaching and education.  She is offers solution-focused short term therapy, relationship-skills workshops and online programs.   More about her services can be found here www.therelationshipcoach.ie.
For all enquiries contact the guidance counsellor at aideen.lyster@inchicore.cdetb.ie
Start of Term – September 2021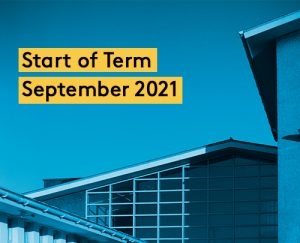 College starts soon! We are looking forward to welcoming all our new and returning students soon. In the meantime, here is some information you may find useful.
Payment of Fees and Registration.
If you have been offered a place on a course, and you have not yet paid your fees and uploaded your requested documents for registration – now is the time to do it. All the links and instructions you need are here.
If you have any questions or issues regarding payments or uploading documents, please let us know by email at enquiries@inchicore.cdetb.ie
Inductions
Course inductions will take place on the week of Monday 20th September 2021. We will email you with the exact date, time and location of your induction. At your induction, you will meet your course director, other college staff and your fellow students. You will receive lots of useful information (including your timetable) about your course and the college.
Start of Term
Classes are due to start on the week of Monday 27th of September.
Covid 19 Restrictions
We at Inchicore College are looking forward to welcoming all our students in September. We are following all Government directives and guidance to ensure that everyone working and attending Inchicore College can continue to work and study in a safe, effective and comfortable environment.
We are hopeful that students will be able to attend classes in the college in September but this will depend on directions from government. Some courses may involve some elements of remote learning and/or blended learning. More detailed information regarding your course of study will be made available to you closer to your start date and at your induction meeting.
Phone lines down August 2021
---
UPDATE 16TH AUGUST 2021
Our phone lines are now back working again. we apologise for any inconvenience caused.
---
The phone lines at Inchicore College have been down recently. If you have been trying to get through to us by phone recently, we apologise for the inconvenience. We ask that you contact us by email at enquiries@inchicore.cdetb.ie until the problem is resolved. We are working with our service provider to rectify the situation and hope to have the phone lines back up soon.
EXIT – A showcase of work from Art Portfolio at ICFE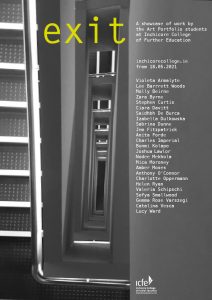 Inchicore College is proud to present 'EXIT', the online end-of-year showcase of work by our students on our Art Portfolio Preparation Course.
We have had a great year on the Art and Design Portfolio Course here at ICFE. As you will see as you browse the exhibition, each student has found their own artistic voice and has discovered new ways to express their ideas and creativity.
The students have produced work in drawing, painting, printmaking, sculpture, collage, photography and video and have explored a myriad of themes such as memory, nature, balance, home, traces, danger, body, and self. It has been very interesting to see how the particular circumstances of the year have influenced the students work but it has in no way reduced the creativity and determination of these students.
We will be launching tomorrow at 4pm. Please check in again tomorrow to view the exhibition.
ICFE Dance Presents 'The Liminal Space'
A fingerprint is unique to an individual.
This year, second year dance students have been exploring their individual danceprints. They have been seeking to find their danceprint that is not bound by technical dance technique but exists within the realm of being and moving without fear or judgement.
*
We have used Gabrielle Roth's Five Rhythms to find this inner danceprint. These flowing, staccato, chaos, lyrical, and stillness rhythms provide a space to sense and express what cannot be spoken.
*
This base created the impetus for our short dance film "The Liminal Space". A threshold between beginning, and ending, and beginning again.
All on this week
It's all happening at ICFE this week. Here's what's on over the next few days:
Monday 22nd  – Wednesday 24th.
Uninvited
The first year Theatre Students present their productions of three new plays. Unfortunately, due to technical constraints they will be live streaming to an invited audience only. But we're happy to tell you that recordings of the performances will be available at a later date. Looking forward to that! In the meantime you can find out more about these performances here>>
Tuesday 23rd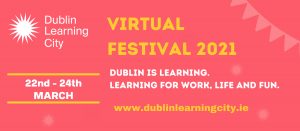 Accessing College for Mature Students
Inchicore College takes part in the Learning City Dublin Festival with a special presentation titled – Accessing College for Mature Students. Our Guidance Department will host a live webinar to talk through what it means to be a mature student at ICFE. There will also be links to video presentation by current and past mature students where they talk about their experience going back to education and what ICFE has meant to them. Find out more here>>
Tuesday 23rd
Informations Sessions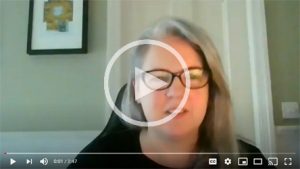 ICFE courses host the latest round of information sessions for applicants. All prospective students who have applied over the last month or so have been invited to these information sessions. They are proving to be of great benefit to applicants as they get to meet the course co-ordinator, get detailed information about their course and can ask any questions they may have. All applicants will be sent links to the information sessions. Looking forward to meeting more of next year students on Tuesday.
Thursday 25th
It's OPEN DAY. Our virtual open day in January was a great success and we've decided to go again! There will be live information sessions where you can submit questions and hear all about our admissions process, our exciting range of courses and about what it is that makes Inchicore College so successful. There will also be video presentations from course teachers and chats with current and past students. More info here>>
FIRST YEAR THEATRE PRODUCTION 2021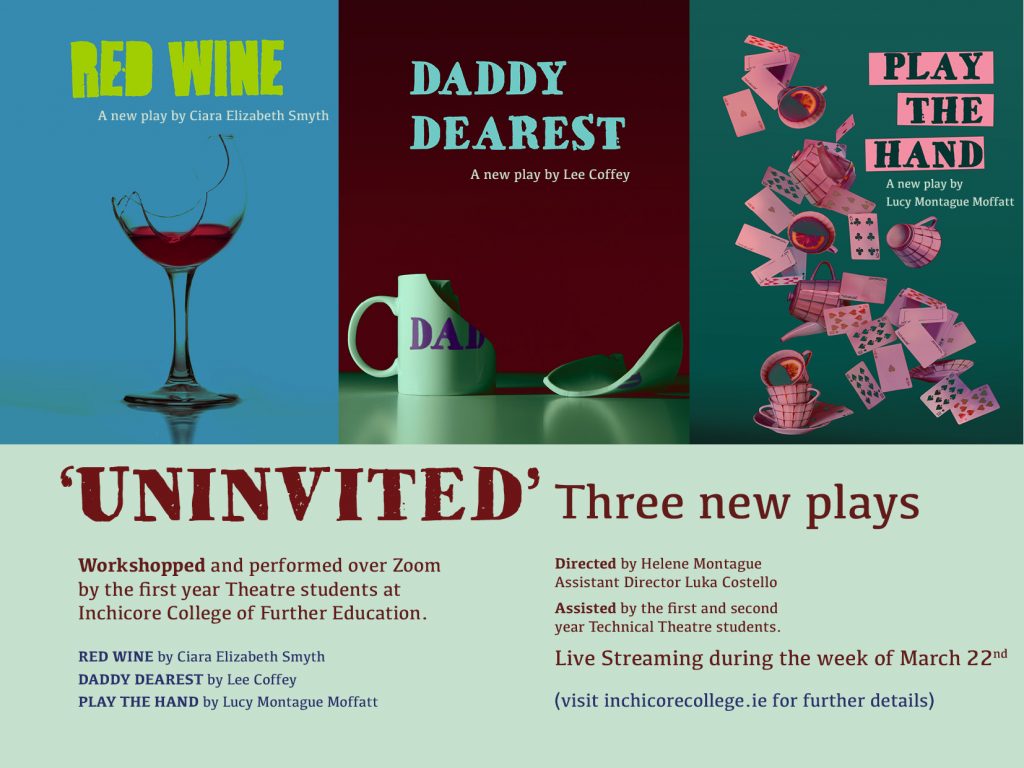 The first year Theatre students at Inchicore College of Further Education present three new plays in a LIVE Streamed Performance.
These Shows will be LIVE STREAMED to an invited audience Monday 22nd March – Wednesday 24th March. Recording of the performances will be available at a later date.
RED WINE by Ciara Elizabeth Smyth
DADDY DEAREST by Lee Coffey
PLAY THE HAND by Lucy Montague Moffatt
Directed by Helene Montague
Assistant Director Luka Costello
Assisted by the first and second year Technical Theatre students.
Watch the PROMO VIDEO here:
"UNINVITED"
Every year for the last 11 years, Inchicore College has invited a young upcoming professional Irish playwright to come and work with the class of first year actors and technical theatre students to produce a new script, unique to them.
This year we are lucky enough to have three writers, all who have written plays previously for Inchicore College, and all who have impressive experience in theatre and television.
Lee Coffey, Ciara Elizabeth Smyth and Lucy Montague Moffatt met the class of first year theatre students in the first week of November 2020. Luka Costello a high achieving graduate of our theatre programme joined us as Assistant Director. We were allowed at the time to have class face to face in the College. Lee was with us in the room and Ciara zoomed in from Scotland and Lucy from Wales .
We had decided that in the current climate of insecurity we would ask them to each write a short play (15-25 minutes) and divide the class into three casts so that numbers weren't a problem for rehearsal space.
The resulting plays have been a joy to work on.
The title 'Uninvited 'reflects the theme of surprising encounters and revelations running through all three plays.
"Daddy Dearest" by Lee Coffey is a dramatic meeting between three sons and the father they never knew.
"Play the Hand" by Lucy Montague Moffatt is a surreal comedy centred around a family's first encounter with the daughter's boyfriend, and an unexpected dark secret.
"Red Wine" by Ciara Elizabeth Smyth is a modern comedy played out on a zoom call between two neighbouring couples, plus a helpful relative and featuring an unusual request.
The music featured in the plays includes
Bing Crosby, Aretha Franklin, Kiss, Daniel O'Brien, and the Uninvited theme for piano by H. Montague
Live Q&A Webinar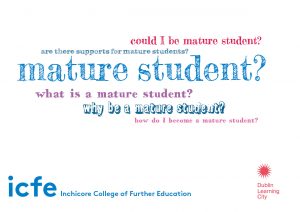 As part of the Dublin Learning Festival 2021, ICFE is hosting a Live Q&A webinar session on Tuesday the 23rd of March at 1pm, specifically for mature and adult learners thinking of engaging with or returning to education.
https://zoom.us/j/97126310038
Mature Student Videos
There will be an informal talk from the Deputy Principal and Guidance counsellor, who will answer all questions on every aspect of college life in a comfortable and relaxed way.  We will show that 'learning' is accessible to everyone who wishes to upskill, gain a qualification or simply what to learn for the joy of learning.
Please also check out our video clips available from past and current mature students, sharing their own experience of returning to college.
Connect Café
 At ICFE we try to give our mature students opportunities to connect with one another, to share their experiences and to encourage and support one another. Our guidance department organise a regular 'connect café' where mature students can meet and chat in an informal setting. During covid these have had to go online. We recorded a recent meet up on ZOOM and you can hear four of our current mature students talk about how they are getting on.
Inchicore College Fun Walk/ Run
Join us at 12pm on Thursday 11th Feb for our Virtual 2,3 or 5km walk, jog or run event. 
Do it for Yourself! It's time to look after ourselves, take time out to enjoy a nice walk, jog or even run next Thursday.
Here is how you can get involved: 
Step 1   Say Yes to taking part in this whole college event.
Step 2   Download the App STRAVA  and create your profile……its free.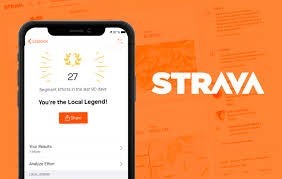 Step 3   Look for our college Club and Join our college community: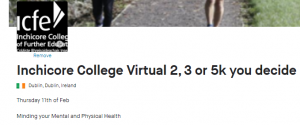 Step 4   Click on the event and tell us you're in.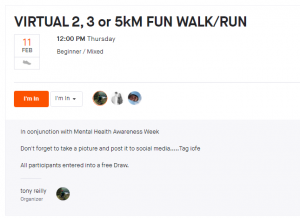 On Thursday, starting from 12pm, pick your own local route and enjoy.
Record your walk, jog or run on the Strava App. 
We hope you can make it! 
All participants will be entered into a draw for a PRIZE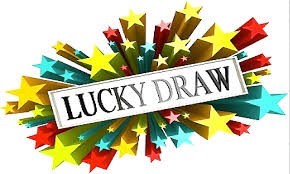 Also there will be a prize for the best photo on the Day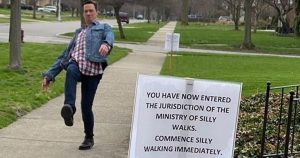 DISCLAIMER: 
Please observe Government Guidelines re COVID 19 
 If your not into Strava, NO WORRIES –  go for your walk  
 Don't forget to: 
TAG us on social media
Health and Wellbeing Week 2021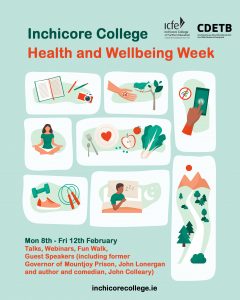 We are excited to announce ICFE's Health & Wellbeing week, starting next Monday the 8th of February.  We have a week full of great talks, activities, and events both online and offline.  We are inviting you to join us for any or all of the events and activities, all you need to do is log on to the daily webinar links found on the ICFE website, www.inchicorecollege.ie and if you have any queries contact the guidance counsellor on aideen.lyster@inchicore.cdetb.ie
Monday 8th
12-12.40pm:
We are kicking off our Health & Wellbeing Week with a Wellbeing Webinar Talk from Physical Therapist Steve Mc Donald, founder of  OneBody Clinic, giving simple tips on Feeling Healthy During Lockdown.
2.00pm:
If you are looking for a combination of relaxation and exercise join IRest Yoga teacher Ann Mc Donald, on Monday the 8th at 2pm, for some gentle yoga stretches and a little bit of mindfulness. 
Tuesday 9th
11.00-11.50am:  Panel discussion on the Importance of Exercise & Good Diet by David Morrissey, St Patricks FC (Exercise), Karen Parkinson (Nutrition teacher) and Howard Lodge (Nursing teacher)
 PANEL DISCUSSION LINK CLICK HERE
Wednesday 10th
11.00-11.45am: Tea & Chat with John Lonergan, Former Governor of Mountjoy Prison on 'How to Remain Positive in a Time of Uncertainty'
3.00pm-3.30pm:  Tips for Health & Wellbeing for the Planet by Fionnuala Lynch ICAN Coordinator, (Inchicore Climate Action Network)
WELLBEING FOR THE PLANET TALK  3pm –  CLICK HERE
Thursday 11th
12noon:  2-3-5K Walk for Good Health & Wellbeing by Tony O Reilly and ICFE students/staff. Join https://www.strava.com/clubs/764198
(2 prizes, 1=random for getting involved and 2=most interesting photo)
More information on this great event – CLICK HERE
Friday 12th
11.00am: Virtual Sound Bath Meditation by Tom Toher, Restore Rebalance
LINK FOR MEDITATION – CLICK HERE
2.00-2.30pm:  Comedy Time by John Colleary, actor, comedian, and writer, known for Irish Pictorial Weekly (2012), The Savage Eye (2009) and The Man Who Invented Christmas (2017)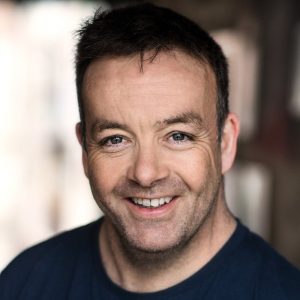 Virtual Open Day March 25th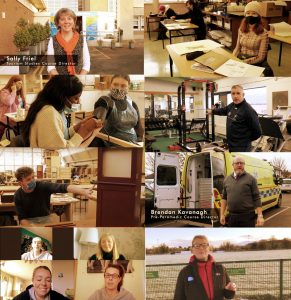 Inchicore College of Further Education virtual open day, March 25th.
The Inchicore College open day is online this year and we have an exciting range of events and materials to share with you.
Access to our open day is through the college website. Click here to go to the Open Day portal. We will have live events here on March 25th, and the rest of the material will continue to be available – 24/7
On the open day page you will find:
Detailed presentations  from course tutors
Interviews with current and past students about their experiences at ICFE
Presentations from our Career Guidance department
Information about our extensive Erasmus+ programmes of International Work Experience.
We will be running further live events over the coming weeks and we will notify you of these on our website.
Discover what you can do.
Recommencement January 2021
Dear Students
Happy New Year.
We hope that you and your family and friends are well.
Update re recommencement of classes
 Following Government advice, please note the following arrangements for Inchicore CFE:
 Online classes will resume as planned on Wednesday 6th January. Please refer to your class timetable.
 Practical classes will not resume in the college until further notice. Your Course Director will contact you to update you regarding practical classes.
Students may not enter the college building until we get further update from Government.
We will continue to update you as the situation develops.
Stay safe and best wishes.
 Inchicore College Management
Wellbeing Webinar
Wellbeing Webinar
Presents a Chat with Mental Health First Aid Manager, Donal Scanlan, on
'Minding our Mental Health During Covid-19'
Tune into Inchicore College's 'Health and Wellbeing Webinar Hour' next Wednesday the 11th of November at 3pm. Donal will chat to us about Mental Health First Aid Ireland and how we can all look after our mental health during Covid-19.
Here is the link for the Webinar:
You are invited to a Zoom webinar.
When: Nov 11, 2020 03:00 PM Dublin
Topic: Wellbeing Webinar
Please click the link below to join the webinar:
Or iPhone one-tap :
    US: +14086380968,,89292010020#  or +16468769923,,89292010020#