Showcase 2022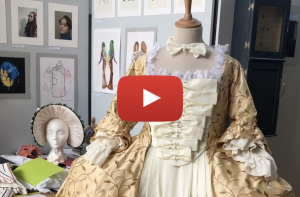 Preparations are well underway for our Graduation Show which opens on May 19th. Come along and see and read the wonderful work created by our students of Art and Design, Costume Design, Creative Writing and Furniture Design. You will be amazed at the talent on show and see the work of the next generation of Creatives.
Thursday, May 19th. 6pm.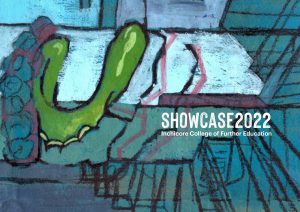 In Our Veins
At the funeral of lifelong Dublin docker Patrick, his wife Esther recounts previously untold stories spanning 100 years of their family's history in Dublin, to their children and grandchildren.
Lee Coffey was commissioned to write In Our Veins by Dublin Port Authority as part of their Port Perspectives Initiative. It was co-produced with his company Bitter as a Lemon with the Abbey Theatre and premiered in 2019.
Lee describes his play as "a love letter to Dublin, in every sense. Putting a lens up to a world that no longer exists and that will never exist again. A world of tough choices, hardship and survival where human kindness knew no bounds as the dark and unforgiving world took everything."
Praise for the original production on the Peacock Stage 2019 :
'It stands tall. And proud. And deservedly so'
The Arts Review
PERFORMED BY Kaci Bolger, Jonathan Flynn, Conor Maher, Bláthnaid Moore, Ellie Anne Moran, Molly Mae O'Neill, Caitríona O'Quigley, Shiane Whelan and Shaun Finnerty.
WRITTEN BY Lee Coffey
DIRECTED BY Kyle Hixon
ASSISTANT DIRECTION BY Ursula Maher
SOUND DESIGN BY J.J Vernon
LIGHTING DESIGN BY Cain Lynch
MUSICAL DIRECTION AND COMPOSITION BY Helene Montague
CHOREOGRAPHY by Diane Richardson
STAGE MANANGER Susannah Conroy
ASSISTANT STAGE MANAGER Gillian O'Neill
This amateur production of "In Our Veins" is presented by arrangement with Concord Theatricals Ltd.on behalf of Samuel French Ltd.www.concordtheatricals.co.uk.
TICKETS €14 | €10 STUDENT / OAP
Booking – https://smockalley.com/in-our-veins/
RUNNING TIME: 90 MINS
Suitable for ages 14+
Contains threatening behaviour and sexual references.
A Night on Inis Cill
"A NIGHT ON INIS CILL"  a new play by Fionntán Larney.
Inchicore College of Further Education
Thursday.     31/3 /22   @  7.30pm
Friday.         01/4/22.  @ 1.15pm  and  7.30pm
A dark comedy set on New Year's Eve, during a storm.
A school reunion ?
A dark plot ?
A chance to even out old scores?
Murder Bish Bash Bosh
Presented and performed by the first year Theatre and Technical Theatre students .
Supported by the first year Costume students.
Director Hélène Montague
Assistant Director Jonahan Quigley
Dancemoves 2022 – Wednesday, March 30th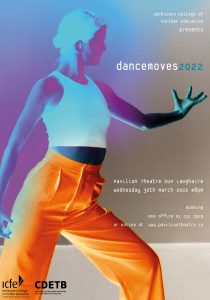 Inchicore College is proud to present Dance Moves 22, a showcase of our first, second and third year dance students.
Prepare to be entertained by Ireland's up and coming talented dancers and enjoy an evening of beautiful choreography, staging and costume.
Pavilion Theatre, Dun Laoghaire.
Wednesday, 30th March, 2022, 8pm
Tickets from the Pavilion Theatre
https://www.paviliontheatre.ie/events/view/dance-moves-22
OPEN DAY January 26th 2022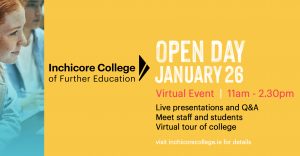 Join us for our online Open Day, next Wednesday January 26th from 11 – 2.30 pm. 
The main focus of the day will be a series of live presentations and Q & A sessions. Each session will concentrate on a specific group of courses and will feature talks with teachers and students and live questions and answers. There will also be a virtual tour of the college where you can see our facilities and meet more staff and students.
The links to the live sessions will be posted here.
Schedule of talks and Q&A sessions:
11am  Welcome 
11.15  Dance Courses 
11.35  Theatre 
11.55  Creative Arts Courses
12.15  Childcare Courses
12.35  Psychology and Social Courses 
12.55  Nursing & Healthcare Courses
13.15  Sports Courses 
13.35  Business Computer and Law Courses 
13.55  Tourism Courses 
14.10 – 14. 20 Career Guidance
Close
We look forward to welcoming you to Inchicore College Open Day 2022!
Health & Wellbeing Week 2022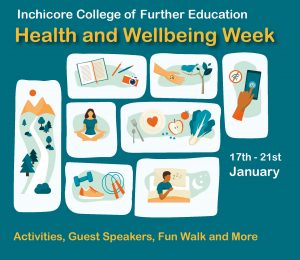 We are excited to announce ICFE's Health & Wellbeing week, starting next Monday the 17th of January.  We have a week full of great talks, activities, and events online and some offline.  We are inviting you to join us for any or all of the events and activities, all you need to do is log on to the daily webinar links found on the ICFE website, www.inchicorecollege.ie and if you have, any queries contact the guidance counsellor on aideen.lyster@inchicore.cdetb.ie
Monday 17th of January
11.00am:  Restore Connection in Challenging Times by Michelle Stowe, Restorative Practitioner, Trainer, Consultant and Researcher. 
This online workshop offers an introduction to Restorative Practice; seeking to RESTORE connection in challenging times.  We will explore how to build relationships through positive communication using our RESTORE themes;
RESTORE:
Recognition – Cannot change what we do not acknowledge.
Empathy – Emotional intelligence is the biggest success factor in careers.
Safety – Calm is a superpower, from state to trait!
Trauma – Now a collective experience.
Opportunity – Conflict is not to be avoided – opportunity for connection.
Relationships – Are and always have been key!
Engagement – Inviting others to engage – all relationships involve risk!
Tuesday 18th
11-12.30pm: Level 6 Leadership & Conflict Management students contributing to ICFE Health & Wellbeing. (Activities and competition!)
3.00pm: Mindfulness for Student Wellbeing: by Susan O Regan, Mindfulness Teacher and Youth & Community Educator and Advocator.
This one-hour introductory session on zoom provides an opportunity to lean into and learn how to practice mindfulness meditation as well as learning some mindful tips to support time-management, organisational skills, and how to study more effectively.
CLICK HERE TO JOIN THIS WEBINAR
3.00pm:  Self-Care for FET Educators by Michelle Lowry, Jigsaw.  1-hour workshop to focus on Staff Self-Care with the following main objectives:
– Participants will have a greater understanding of what self-care is
– Have a greater understanding of the importance of self-care in their role as an educator
– Explore the challenges to supporting self-care practice
– Be more aware of their own self-care needs
– Be able to develop their own self-care plan.
CLICK HERE TO JOIN THE WEBINAR
Meeting ID: 856 5597 3610
Passcode: 153227
Wednesday 19th
11.00am: 'Small Steps Towards Living a Healthier, Happier Life' (The Science and Philosophy of Happiness) by Stephen Mc Donald, Physiotherapist & Physical Therapist and OneBody Founder.
Stephen will give simple, practical yet powerful steps how to be healthier and happier in our daily lives.
WEBINAR LINK WILL BE POSTED HERE
12noon:  2-3-5K College Walk for Wellness by Tony O Reilly ICFE teacher and ICFE students/staff. Join https://www.strava.com/clubs/764198
(Prizes for most interesting scenic photo)
Thursday 20th
11.00am:  ICAN Fashion Fix by Fionnuala Lynch ICAN (Inchicore Climate Action Network) Coordinator and Catherine Meresse ICFE teacher.
This 30-minute webinar will outline how Fast Fashion can contribute to a Healthy Planet.
WEBINAR LINKS WILL BE POSTED HERE
11.30am-1.00pm: L5 Business HR Students contributing to ICFE Health & Wellbeing: (Health & Wellbeing in the Workplace: Advise, Tips and Support). Room to be confirmed.
1.00pm-3.00pm L5 Childcare Students contributing to ICFE Health & Wellbeing: (Trees for Health & Wellbeing). Room 2
Friday 21

st
1.00pm:  Making Safer Sex Sexy by Dr Caroline West, Active Consent Outreach coordinator from the National University of Ireland Galway, Sex Columnist for Irish Independent and lecturer and media speaker on sex related topics.
This workshop provides the basics in keeping yourself safe during sex, and keeping it hot! It explains what sexually transmitted infections (STIs) are, how to protect yourself against them, how to manage a diagnosis and maintain your mental health.
Please click the link below to join the webinar:
Please note that all webinar links will be emailed to students and staff each morning and the webinar link can be accessed on the ICFE website (www.inchicorecollege.ie).
Sinead and I hope you get some practical, useful and helpful support from this year's Health & Wellbeing week. Enjoy!
Return to College – January 2022
Classes will take place online for most class groups this Thursday & Friday, January 6th and 7th. Students will receive an SMS confirming the situation for their class group. Those required to attend the college for classes will be contacted directly. Thank you.
Christmas at Inchicore College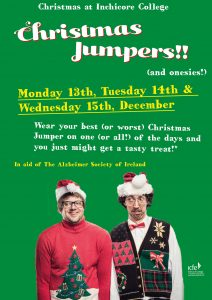 Christmas at Inchicore College! It's Christmas Jumpers Days! In aid of Alzheimers Society of Ireland.
Monday 13th, Tuesday 14th, Thursday 15th December. Wear your best (or worst!) Christmas Jumper or Onesey.
Post on social media using
#ASIchristmasjumperday
@alzocirl
tag us @icfeofficial
Inchicore College Carols 2021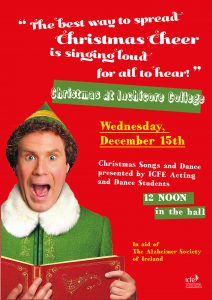 Join us in the college hall on Wednesday 15th, for Music and Dance presented by the students of the Theatre Studies and Dance Courses.
College buildings closed Wednesday, December 8th
Following advice from government, Inchicore College buildings will remain closed on Wednesday, December 8th. Students are advised to please check their emails for updates regarding scheduled classes. Thank you.
College Buildings Closed, Tuesday, December 7th, 2021
Due to the weather alert, all Inchicore College buildings will remain closed on Tuesday, December 7th, 2021.
All students are advised to check their emails for updates from their teachers or Course Director.
Stay safe.
Inchicore College.
Climate Action Vote
Vote for the Climate Action you want to see at Inchicore College
We are taking part in a campaign which will run from 22nd of November to the 3rd of December run by Green Campus Ireland.  9 Colleges throughout Ireland have been chosen for the project.
The plan is that from Monday the 22nd,  we are asking students and all the staff to cast their vote and share the link on social media.
We want as many people as possible to see the campaign and to share the message of how we, as a College can work together to tackle these bigger environmental issues.
Go to this link to vote for the changes you's most like to see:
https://onestepcloser.to/green-campus-inchicore-college
Do it now – it only takes a second
Please share the link with anyone who might be interested.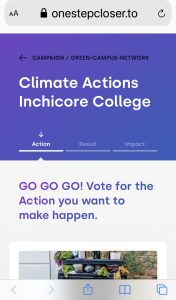 Halloween Costume Competition Time!
Well done for getting through the first term!!!  To celebrate a successful few weeks in college, and a Happy Halloween, we are holding a FANCY DRESS COMPETITION this Thursday the 21st!!  The class that scores the most points will win a PIZZA PARTY after mid-term break!  Please see instructions below.  We will also be announcing the winner of the Self-Care Competition held during World Mental Health Day at the same time.
FANCY DRESS Scoring as follows:
The class with the most fancy-dress costumes and points wins the prize!  Post your group photos and mention or tag the college social media for evidence, stating what course and class you are!
https://www.instagram.com/icfeofficial/?hl=en 
https://twitter.com/ICFEofficial 
https://www.facebook.com/inchicorecollegeofficial 
Scoring as follows: 
Each student dressed up and in the photograph gets five points 
A class in fancy dress with a picture of a teacher dressed up wins a bonus of 5 points 
Picture taken with students in fancy dress and the Inchicore College logo gets a bonus of 10 points
The class with the most points will win a pizza party after a midterm break.
Classes under 12 people can double up with another class 
Individual prizes for best costume.  
best staff prize will receive a voucher for a pizza 
We are looking forward to seeing all the costumes on Thursday!! 
May the BEST class win!!
Aideen (guidance counsellor), Tony (Sports department) and Eoghan (Art department)
Graduation 2021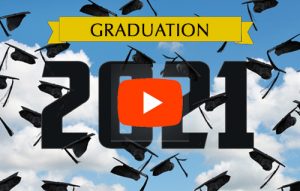 We are delighted to announce that the Inchicore College of Further Education Graduation 2021 is now available to view. Just click on the video to watch. If you watch on youtube, you can use the timestamps in the description to go to your class presentation.
Congratulations to all our graduates and well done on your achievement! We are so proud of your success.
Graduation from a course is a significant event and we would love to be able to have you and your family attend our graduation ceremony in the college. But, unfortunately, that is not possible this year.
Instead, we have filmed the presentations from the graduation ceremony in the college and are showing this on our website to mark your achievement.
We invite you, your family and friends to enjoy it and celebrate with you.
ICFE Celebrates World Mental Health Day 2021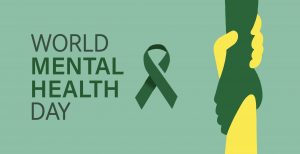 Let's celebrate WORLD MENTAL HEALTH DAY 2021 in Inchicore College on Thursday the 7th of October
 'Mental Health Care for All: Let's Make It a Reality! (World Health Organisation) through Connection & Reconnection.
Join in various Good Mental Health activities throughout the day!!
Live Wellbeing Webinar at 1pm

Join the guidance counsellor in conversation with
Bill Vaughan (Mental Health Ireland)
Michelle Stowe (Restorative Practice)
Annie Lavin (Relationship Coach)
on our Live Wellbeing Webinar at 1pm to hear how to make Mental Health Care a reality through self-connection with the self and reconnection with others.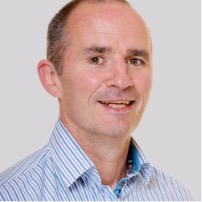 Bill Vaughan has been as a Development Officer in with Mental Health Ireland for 11 years. He is a trained counsellor but now focuses more on promoting positive mental. Bill is an experienced facilitator and has delivered many evidenced based programmes relating to mental health and self-care. Bill is married, has 3 grown boys and lives in Co Donegal.  For more information check out www.mentalhealthireland.ie
Michelle Stowe is a restorative practitioner, trainer, researcher and consultant. In her role as the director of Connect RP, she supports schools and colleges in growing a restorative culture that puts people and relationships at the heart of a learning community.  Michelle is also a lecturer on the Professional Masters in Education (PME) programme in Maynooth University.  She facilitates continuing professional development courses for teachers in Education Centres throughout the country. For more information, check out www.connectrp.ie
Annie Lavin aka The Relationship Coach is a Couples Therapist, Singles Coach, Relationship Skills Educator and Psychology lecturer.  Annie is committed to tackling stigma and promoting the creation and maintenance of healthy intimate relationships through psychology, counselling, coaching and education.  She is offers solution-focused short term therapy, relationship-skills workshops and online programs.   More about her services can be found here www.therelationshipcoach.ie.
For all enquiries contact the guidance counsellor at aideen.lyster@inchicore.cdetb.ie
Start of Term – September 2021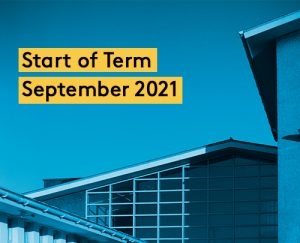 College starts soon! We are looking forward to welcoming all our new and returning students soon. In the meantime, here is some information you may find useful.
Payment of Fees and Registration.
If you have been offered a place on a course, and you have not yet paid your fees and uploaded your requested documents for registration – now is the time to do it. All the links and instructions you need are here.
If you have any questions or issues regarding payments or uploading documents, please let us know by email at enquiries@inchicore.cdetb.ie
Inductions
Course inductions will take place on the week of Monday 20th September 2021. We will email you with the exact date, time and location of your induction. At your induction, you will meet your course director, other college staff and your fellow students. You will receive lots of useful information (including your timetable) about your course and the college.
Start of Term
Classes are due to start on the week of Monday 27th of September.
Covid 19 Restrictions
We at Inchicore College are looking forward to welcoming all our students in September. We are following all Government directives and guidance to ensure that everyone working and attending Inchicore College can continue to work and study in a safe, effective and comfortable environment.
We are hopeful that students will be able to attend classes in the college in September but this will depend on directions from government. Some courses may involve some elements of remote learning and/or blended learning. More detailed information regarding your course of study will be made available to you closer to your start date and at your induction meeting.