Autumn term 2023, Embroidery for Improvers -BOOKING IS CLOSED.
---
Monday: Embroidery for improvers
Time: 7.30pm-8.45pm
Start: 11.09.23
Duration: 10 weeks (no class on the 30.10.23)
Fee: 110 euro / Materials Fee: 15 euro is payable, in cash, to the tutor on the first day of the course. (It is CDETB policy that refunds are only issued if a course does not form. Before booking, please see our terms and conditions page).
Notes: All courses are subject to a minimum number in order to proceed. In the event that a course is oversubscribed, places will be offered on a first-booked, first-served basis and a waiting list will then be created. You will be contacted in this event.
Description:
This course is for those who have a little experience stitching, and would like to try some new techniques. Techniques covered will include blackwork, ribbon-work, Mountmellick embroidery and more.
As well as learning the stitches involved in each technique, we will look at the history and traditional designs associated with each one. We will be using a wide range of materials to cover each of these techniques. These materials can be purchased from Alice at the first class at a cost of €15.
Week 1- Introduction to techniques and samples
Week 2- Blackwork – basics of counted stitches
Week 3- Blackwork – shading
Week 4- Ribbonwork – flowers (woven wheel, gathered)
Week 5- Ribbonwork – french knots, ribbon stitch
Week 6- Mountmellick – knotted stitches (knotted stem, coral knot, Palestrina)
Week 7- Mountmellick – padded satin, mountmellick stitch
Week 8- Needleweaving – basic even, double, uneven
Week 9- Needleweaving – more complex patterns
Week 10- finishing samples and where to go from here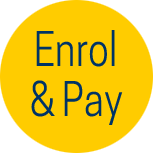 About your tutor: Alice Brady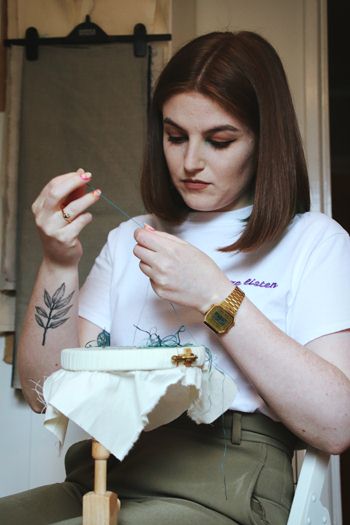 Alice is a passionate embroiderer inspired by Ireland. Alice began stitching in school at the age of 15, but it wasn't until she heard about the Degree Course at the Royal School of Needlework, London that she thought she might make a career out of it. Here, she learned a wide range of embroidery techniques and worked on a number of high profile projects such as the Nicholas Oakwell for Great Britain campaign and the HBO Game of Thrones Hardhome Embroidery.
After graduating from the RSN in 2017, Alice moved back home to Dublin, Ireland and began work on a series of pieces inspired by Irish Folklore, Language, Landscape and History. So far, Alice has completed The Wildflowers series, Celtic Knot series, and Ogham series. These works have also inspired some personalised and commissioned pieces.