Climate Action Day
Inchicore College is excited to present a range of activities this Tuesday, February 28th,  as part of our Climate Action Day.
We will start the event with a Cake Sale for the Turkey & Syria Disaster Fund.
This will be followed by talks & workshops. Main topics are: Caring for the Environment, Food Waste, Impacts of Marine Litter and workshop on Upcycling Waste Wood.
Next up is a Fashion Show modelling clothes from our local NCBI Charity Shop.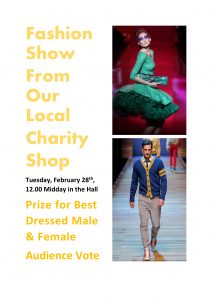 We are still open for participants to model clothes from our local charity shop. Anyone up for it, will be given an opportunity to head down to our local shop in Inchicore and choose some outfits and strut their stuff on the Catwalk on Tuesday.
If you are a super model in the making and we know a lot of you are, check out the posters in the college for details or contact your course coordinator
We will round off the event with a Clothes Swap.