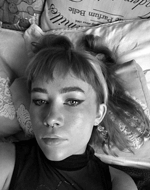 Ciara Davitt
The work I produced this year was mostly concerned with our connections with nature and the vital role nature plays in society. I explored this idea through experimentation with different media and exploring what I could outdoors. Most of the sources I used were found around the area I live in due to covid restrictions. I also had some of my friends send me some photos of interesting trees they came across on walks, one of those I used for inspiration in the "FREAK OF NURTURE" painting.
Through the work I did this year, I got to see how interconnected nature is in our lives, how it manifests itself in our relationships, our behaviour and thought patterns and also, in society as a whole. I also realised that a strong connection to nature, spending more time in nature, helps us to heal and reflect.
I've continued delving into these themes and ideas and the more I explore, the more crucial a solid connection with nature seems to be for people, their behaviours and people functioning in society. I have more work that focuses on these ideas on my instagram, @ciratra and some of my work is available for purchase on my website ciratra.bigcartel.com.
https://www.instagram.com/ciratra/?hl=en
ciratra.bigcartel.com