Aoife Dunne
"The art portfolio course at Inchicore was highly recommended to me by my secondary school teachers. The goal for me was to go to NCAD and I had heard the art portfolio course at Inchicore had a high success rate.
When I went for my interview I really liked the atmosphere in the college. The staff were friendly and welcoming; this really helped me to make my decision to study at inchicore.
I had an idea of what to expect from the course but I got so much more out of it than I ever could have imagined. I achieved what I had hoped to achieve during the course; expanding my knowledge and artistic practice and securing my place in NCAD. However, I learned so much more than I ever expected. It opened my eyes to different options such as getting opportunities to learn printmaking and jewellery skills. The coursework was diverse and in depth, there was an opportunity to really delve into different forms of making. All of the tutors were enthusiastic and extremely helpful.
I found it difficult to get used to dividing my attention between multiple creative projects. Focusing on making a ring, while working on a print project all while working through my personal notebook was overwhelming for me at first; but I quickly got into the swing of things and began to love the process. I began to see how working on multiple projects at once would actually benefit me, as each work influences the next, making for interesting and exciting projects.
The course helped me to become a self motivated, independent worker. This is extremely important, especially for art college. I think the course was a really nice balance between secondary school and college; the days were fairly structured and full on, but you're encouraged to work independently. The transition from secondary school to college is daunting and big universities can be very intimidating at first; attending inchicore college helped to make this transition easier, by getting the feel for college life, but never feeling lost or out of place.
It was probably my favourite and most productive academic year I've had. I was lucky enough to meet some great people and make some lifelong friends. I have graduated from Fine Art Media at NCAD. I loved it. The course gave me the space to have an expanded practice while also learning valuable skills. I'm hoping to eventually do my masters, but in the meantime I'm excited by the prospect of going on residencies and putting on exhibitions. In the long term I'd love to teach, and I plan to organise/ facilitate workshops at some stage. I'm also excited to just see what opportunities might come up."
---
Ethan Taylor
"Before applying to Inchicore college, I attended an online open day in which applicants could hear from the course tutors what each aspect of the course would be like and ask questions of our own. Once I heard how clearly the roadmap from September to May was explained, I knew I wanted to start this course.
The course was incredibly useful to me, as not only did it prepare me for the language used in third level, but it also showed me the most common work processes that are industry standard for any creative practice.
Tutors in the course take the time to talk to each student at the start of the year to find out what they want to progress to, so they can tailor their portfolio's better.
Staff throughout the college are incredibly dedicated to students, always ensuring they find a way to support them but also get the most out of the social side to the college experience.
Upon completing the Portfolio Preparation course in ICFE I was accepted to IADT which was my first choice on the CAO, this is majorly down to the constant guidance from tutors in Inchicore and the support of the faculty in general. The skills I learnt on in this course are still used almost daily in my current course from research methods to prototype making, even how I talk to lecturers about my current project work.
I loved my time in Inchicore and never stop telling new people about my time studying there."
---
Sabrina Dunne
"At the time I was considering going back to college to study a degree in art and had heard from a few different people that the portfolio course in Inchicore was the one to go for if I was serious about getting accepted. From day one the tutors had us thinking and approaching projects like they do in college. It was definitely challenging at the beginning because they really pushed us to create work outside of our comfort zones but by the end it was amazing to see the difference and just how much my art had improved.
The tutors were all so friendly and because they all come from an art background they understood exactly what the colleges were looking for.  I was accepted into NCAD, which was my first choice on my CAO list and thanks to the course in Inchicore I didn't find the workload or projects daunting in first year because we had already been working in a very similar way. The course was also invaluable in teaching me to approach art in my own way and develop ways of exploring ideas that I still use in projects i'm doing at the moment. Honestly my only regret about the course is that I had to leave once I graduated. I made such great friends while I was there and everyone was so nice, it was really an amazing experience and I can't recommend them enough."
Sabrina progressed to NCAD to study Fine Art Textile Art and Artifact
---
Emma Hopkins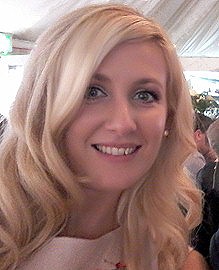 "The college as a whole was so welcoming, from the tutors to the staff in the canteen.
The tutors were so encouraging and supportive, and I really feel they invested a lot of extra time and energy in helping me progress and succeed on completing the course.
It was great to be in a creative and positive environment, gaining new friendships with like minded people."
Emma gained a place in IADT